"DENTA VITA" Private Dental Clinic
"DENTA VITA" has been functioning in the area of stomatologic services in the Republic of Moldova for more than 16 years. The clinic is located in the very centre of the capital, in the City of Chisinau.
Stomotalogic services:
Greeting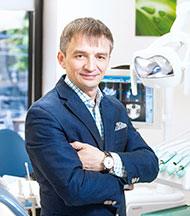 Stomatology is a big world based on scientific knowledge, medical approach, experience, dentist's abilities and technical equipment of the clinic. Up-to-date stomatology is rapidly developing, offering new technologies, materials, instruments and equipment. Without their application, it would not be possible to achieve high aesthetic results in our profession.
Being a dentist is extremely interesting, complex and responsible, especially in our clinic! Everything we do every day has become a standard of the medical care for people. Each patient is given concern and individual approach in our clinic. Diagnosis and treatment are based on scientific and practical knowledge that accounts for absence of discomfort after treatment.
The DENТA VITA Clinic patients' health is in perfect security as we use reliable and certified equipment and medications in our work to treat and sterilize instruments.
Our practice is on the "cutting edge" owing to the constant mastering of the new technologies, personal enrichment and perfection of our doctors' manual skills.
When treating teeth, we are looking for the ways to perform the procedures rapidly, effectively and at a high quality. All our work has a guarantee with full prophylactic examination free of charge.
With the help of this site, we would like to inform people, who very often become hostages of the ungrounded information, of the up-to-date methods of stomatologic treatment. We would like to teach people to understand and evaluate the state of their health to choose their relevant way treatment in the partnership with their dentist.
I wish you good luck and healthy smiles.
Sincerely yours,
Seghei Suhan