We implant
Kinds of tooth implants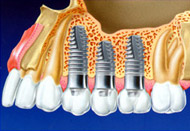 Dental implantation – this is one of the most progressive dental methods of reestablishing lacking tooth.
Dental implantation – this is a difficult technical procedure used to set up the artificial root of the lacking tooth, requiring high professional skills on behalf of the practitioner and high modernized technical equipment. The technology of implantation doesn't cause any unpleasant feelings (it is performed under local anesthesia) and is not capable to cause any traumas to the patient.
According to mythology, sons of Gaia and Uranus are called the Titans. They are archaic (before Olympic) gods of first generation. The most surprising thing is that titanium, used in dentistry for implantation, is a literally divine material. In world of dental practice the titanium and titanium alloys represent the most widespread materials used to prepare different types of dental implants. The titanium is chosen due to its unique anticorrosive properties and biological inertia.
It is extremely important the fact that titanium has the closest to bony tissue size of Young's modulus, which determines the resilience properties of the substance. In fact in cases of resilience deformations of the bone and of the implant, similarity of properties will reduce the probability of bone destruction, for example, during mastication of hard food.
Nowadays in world there are more than 2000! Systems for dental implantation, each of them has its advantages and disadvantages. Conventionally all systems can be divided into 3 price categories – cheap, economic and VIP. Due to our impressing experience and gathered knowledge we managed to choose 2 systems of VIP implants obviously surpassing in their price and functional qualities other systems. According to the shape of implant construction we prefer using cover screw implants. In a concrete clinical situation we use cover screw implants, foreseeing one-stage or two-stage method of further implantation and denture placement.
One-stage method: we use fixed implants, which integrates with the shaped bony support. Denture application begins in the first days after surgery.
Two-stage method: in bony support goes in only the rooted part of the implant and the mucous membrane above it is put in with stitches. Denture placements starts after implant head was joined, 3-4 months after surgery on lower jawbone and 4 - 6 months later on upper jawbone.
These and other technologies are used in the dental centre "Denta Vita" located in the centre of Chisinau, where our qualified dentists take advantage of all their experience with the help of the up-to-date equipment for our patients' benefit.