We implant
The laser in implantation
Dental implant using laser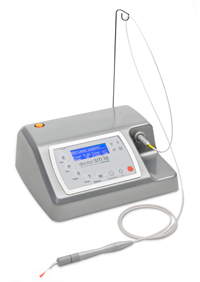 Not long time ago dental implant seemed to be something fantastic. Today it is a common and enough simple procedure, which is carried out by our doctors each day.
Implantation procedure lasts between 30 minutes up to 1 hour. Under local anesthesia doctor cuts the mucous membrane (we do it using laser, which guarantees the best result, faster and more qualitative healing, absolute sterility and no bleeding) and puts in the implant with the help of a special device – physiodispencer.
The implant itself represents a cylindrical pivot made of titanium. Then the implant is covered with the mucosa on the top and stitches are put in.
After the procedure of implantation it is necessary to allow 3 - 6 months before placing a permanent denture, meanwhile temporary plastic dentures are fixed. During this period of time implants osseointegrate with the jawbone and further are used for permanent denture, that is why the doctor cuts again the mucous above the implant (we simply evaporate it over the implant using laser) and puts a crown on it afterwards.
This way, laser allows making the implantation more comfortable for the patient and therefore getting a better effect. The price for implantation depends on the implants system chosen by patient. We use several systems which allow carrying out this procedure by using different materials.
There are such contraindications for the implantation procedure as hard metabolism disorders and several chronic diseases found out in decompensation stage.
Earlier the lack of bony tissue in the zone of implant was also considered as a contraindication. But now, due to the newest methods of mineral bone grafting, this contraindication is no longer available.
During 3 days after the procedure of implantation, the patient can feel a little edema and discomfort in the zone of surgery; this is why it is necessary to avoid cooling and strong physical pressures. 3 days later the patient already forgets about the surgery.
In the end, patients give up uncomfortable removable dentures that grind smooth the healthy neighbor teeth, and choose implants in order to reestablish lost teeth.
These and other technologies are used in the dental centre "Denta Vita" located in the centre of Chisinau, where our qualified dentists take advantage of all their experience with the help of the up-to-date equipment for our patients' benefit.