The "magic" filling materials "Twinky star"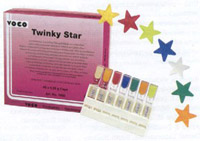 Pediatric dentistry is a very important and responsible form of dental treatment. Children's tooth caries proceeds in different ways. Peculiarities of the clinical cases of children's dental caries are related to the structure specialty of the hard tissues of teeth, the qualities of the reactivity of the child's body and qualities of oral care.
In spite of the fact of our doctors' having effective prophylactic remedies, there are always children who have high caries activity and a large number of cavities as a consequence. The successful treatment of these children, especially during the period of the milk and mixed bite is a very important and difficult task.
For this problem solution, anesthetics and special juvenile modern and effective filling materials for children of different age groups are widely used in the dental clinic Denta Vita. The "magic" "Twinky star" filling materials are especially destined for young patients.
The palette of "Twinky star" includes seven different colors: blue, pink, silver, orange, yellow, green and gold.
Children like to choose the colour of their future fillings and treatment becomes an interesting game for them. The goal of our work is an individual approach to each child and the treatment plan is designed for each child-patient.
We try to give a positive experience to our young patients to create their positive attitude towards dentistry.