We make dentures
Nonmetal ceramics
Metal-free Ceramics (Bio)
Advantage of new technologies ... At present several systems of producing all-ceramic crowns, meeting all the requirements of modern dentistry, are in existence. The evolution of all-ceramic systems has improved the design transparency, facilitated the correction and provided high degree of biological compatibility of the restorations. Modern all-ceramic materials are inert, resistant to corrosion and have low temperature conductivity.
The all-ceramic crowns were earlier used only for restoring single anterior teeth, because they did not have the reinforcing frame and they were not strong enough. Sometimes the metal-frame restorations did not comply with the aesthetic requirements; their dark edging emerged around the tooth neck. They also irritated the gum mucosa. Currently, the use of certain techniques allows to apply metal-free ceramics for the parenthesizing of any teeth group.
For a long time, zirconium oxide has been used in medicine as the best material to replace the articular head of the femur.


The all-ceramic crowns allow to avoid other complications emerging when exploiting the most common metal-ceramic crowns:

change in colour on the tooth crown edge
secondary caries,
break of the restoration costruction.
Unlike metal-ceramics, the metal absence in ceramic crowns ensures the colour uniformity. Besides, ceramics is more resistant to the effect of aggressive fizzy drinks, food dyes and tobacco. The perfect accuracy reaching up to 40 microns achieved when zirconium crown is produced ensures the absence of voids or gaps, which are places for the development of secondary caries. All these additional advantages of the ceramic crowns increase the durability and the preservation of the aesthetic state 1.5-2 times as much. If the metal ceramics average service life is 10-15 years, all-ceramic crowns are in service for 20 years or more.
Nonmetallic ceramic IPS Emax

IPS Emax system of nonmetallic ceramic, represents a pressed glass-ceramic. IPS Emax ceramic is a good alternative for metal-ceramic crowns. IPS Emax system has a high content of leucite crystals, which increases its durability. 

IPS Emax ceramic is one of the most lasting systems of nonmetallic ceramic. At the beginning, the technician moulds the wax crown (reproduces the exact shape) on the cast-on gypsum pattern (the exact copy of patient's teeth). Then he presses the crown from a ceramic block into a special furnace at a high temperature. He dyes or covers it with another ceramic and burns it afterwards. The result is an individually prepared restoration with excellent aesthetics and all particularities of a natural tooth. 
Directions
Single crown on frontal teeth.
Inlays on molars.
Overlays on molars.
Advantages of IPS Emax ceramic
Excellent aesthetics. IPS Emax ceramic has no metal framework and no opaque layer.
Excellent fit.
Perfect shape and color imitation of natural teeth.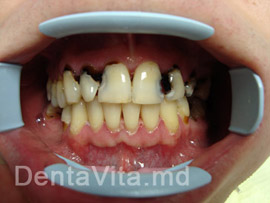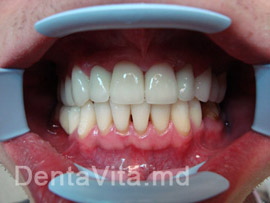 These and other technologies are used in the dental centre "Denta Vita" located in the centre of Chisinau, where our qualified dentists take advantage of all their experience with the help of the up-to-date equipment for our patients' benefit.