Technologies
Prophyflex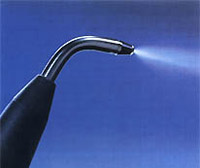 Methods of teeth cleaning using Profyflex (AIR FLOW) (Germany) technology
Maintaining oral cavity in a permanent high-level hygienic condition means practically a guarantee for preventing occurrence of caries and diseases of the mucous membrane. But in domestic conditions it is impossible to achieve a necessary level. The desirable result can be achieved only using a procedure of professional teeth cleaning performed in a dental office. In our dental clinics the professional cleaning of teeth can be carried out using several systems, one of which is Profyflex (AIR FLOW) system.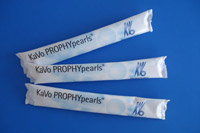 The method of teeth professional cleaning performed with the help of Profyflex (AIR FLOW) technology is known for a long time and proved its advantages in time. Researches lead in 1987 at the university of Aachen town in Germany showed that no other method of professional teeth cleaning can give such results as Profyflex (AIR FLOW). With the help of this technology dentists can remove tooth tartar. Tartar influences painfully the mucous membrane and can cause an inflammation around tooth – gingivitis and periodontitis that involve a difficult and long treatment, and sometimes even tooth removal. Therefore, mechanical whitening or cleaning of teeth using Profyflex (AIR FLOW) is very useful: you can have whiter teeth but also clean and healthy teeth, which is most important.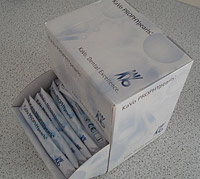 Profyflex (AIR FLOW) technology is based on the principle of surfaces sandblasting. This principle means processing all surfaces with an air and water flow using KaVo PROPHY pearls powder as abrasive, which effectively removes spots from coffee and tea and smoking tartar, but being at the same time gentle in relation to teeth and surrounding tissues. Due to peculiar spherical form of particles (having no corners and edges) KaVo PROPHY pearls powder influences comparatively easily on the tooth subject to cleaning and achieves excellent results, being gentle in relation to teeth and soft tissues. This technology is meant to restore the color and shine of teeth.
Air Flow method helps achieving great results also in brackets processing, heads of implants before choosing color (for obturation, restoration etc.), but also as a preliminary procedure before teeth fluorine and whitening.


These and other technologies are used in the dental centre "Denta Vita" located in the centre of Chisinau, where our qualified dentists take advantage of all their experience with the help of the up-to-date equipment for our patients' benefit.